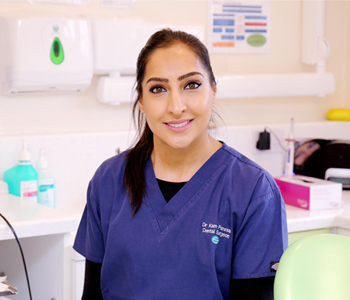 Dr Kam Panesar graduated from the University of Birmingham's School of Dentistry in 2007 and completed her Masters Degree in 2016. She is a passionate dentist and is truly devoted to her profession. Her achievements speak volumes and these attributes allow her to provide the best care to all her patients.
Dr Panesar is a committed healthcare professional and has continued with her education throughout her dental career, starting with the Membership of Joint Dental Faculties, which was awarded by the Royal College of Surgeons. Dr Panesar shows a special interest in Restorative Dentistry, completing her Masters from Leeds University
Aside from general dentistry, Dr Panesar has a keen interest in Endodontics and Short Term Orthodontics. She provides treatments using systems such as Quick Straight Teeth and Invisalign Go. She is also a member of the Society for the Advancement of Anesthesia in Dentistry, allowing her to provide intravenous sedation for those nervous patients that are eligible.
Continuing with dental education, Dr Panesar has previously been assigned as a Joint Foundation Dentist Trainer between 2013 and 2017, which involves mentoring those new graduates who have just completed their dental degree. This shows that she is not only committed to her patients but also enthuses to encourage younger dentists, at the start of their career.
The above attributes, including some of the charity dental health screenings, she has been involved in, contributed to Dr Panesar being shortlisted for the Best Young Dentist Award – Midlands, in 2013.
Dr Kam Panesar ensures that she will continue to provide the best healthcare for all of her patients and aims to continue with her personal professional development to aid with this and provide more 'current' services to the community.